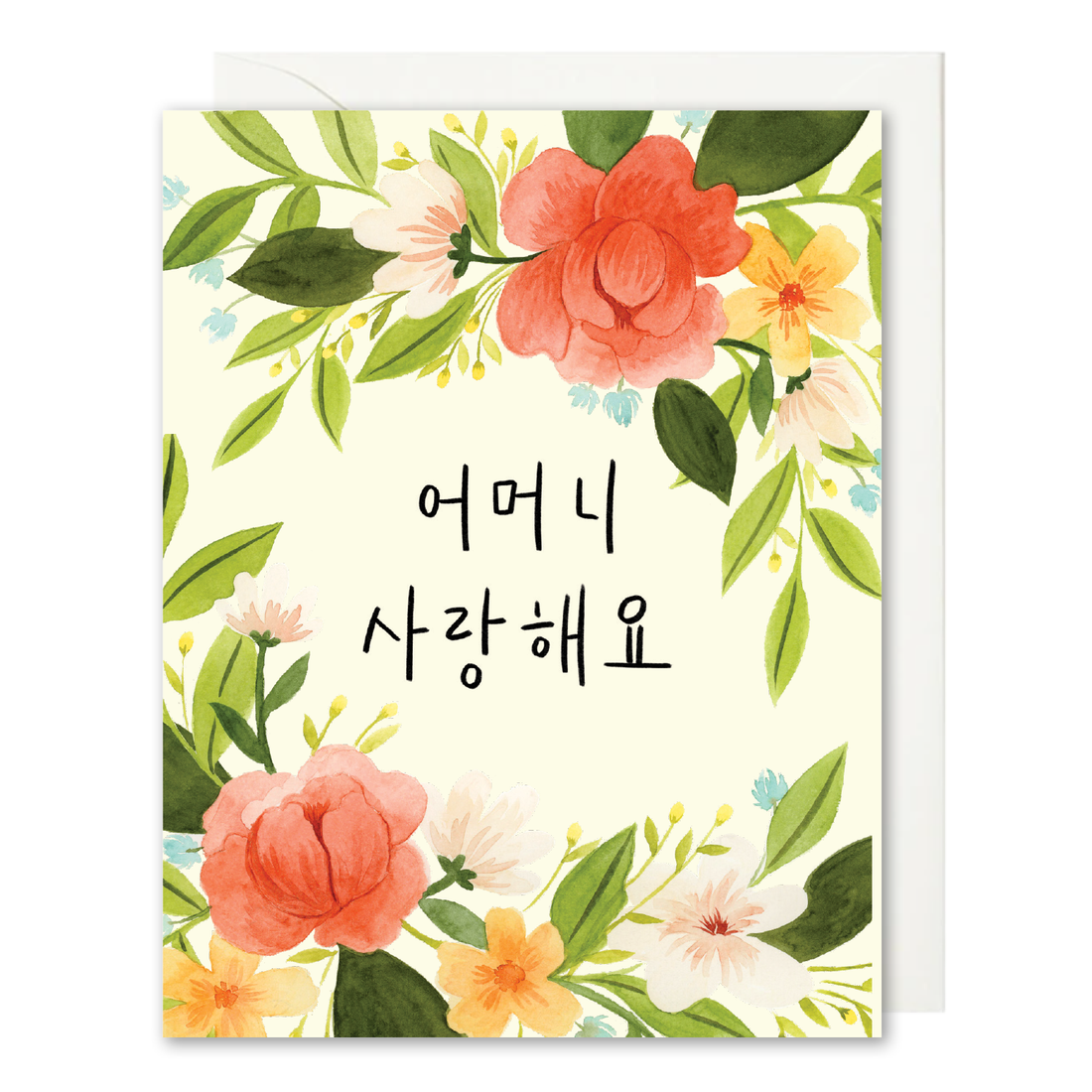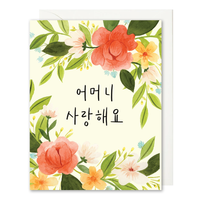 Mom I Love You Korean Card
Mother, I love you. 어머니 사랑해요. Tell your mom or mom-in-law that you love her with this card featuring original lettering and a delicate floral painting. Good for Mother's Day, but also any other day.
✿ Card Details
Blank inside

A2 size, 4.25 x 5.5 inches

Includes a matching envelope

Designed and printed in Canada
A2 size, 4.25" x 5.5"
Printed on white cover paper
Includes a matching envelope
Blank inside
Printed in Canada
For me, being second generation Korean Canadian means that I had a hard time communicating something meaningful through words with my parents. It's strange to think about it - I can't imagine having a language barrier with my own kids! But I think it just goes to show the extent of sacrifice immigrant parents make for their kids. There's no shortage of love here - actions speak a thousand times louder than words in our family! But it's very important for me - now with my own stationery business - to make Korean cards. I want to make beautiful stationery just for my mom and my dad, using all the skills I have, to show them that I love them and that I'm so thankful for them. And to be a proud Korean Canadian.
Selah Paper aims to create thoughtful stationery and gifts to bring encouragement, truth, and joy into people's lives. Our artwork features modern calligraphy and playful design, and are first written and painted by hand before being digitized for print. We hope our products encourage and comfort those who receive them.
Love it!
My daughter is serving as a missionary in South Korea, so I was excited to give my mom a Korean Mother's Day card. She loved it! I'm impressed by the quality and look forward to ordering more.
Perfect for Korean MIL (& moms too)
Got this for my MIL and it's literally perfect for her. I call her uhmuhnee and she loves flowers and Korean is her first language so having this option was so perfect. Also can't forget to mention, the card is beautiful too!
Love these cards
I got multiple cards and these were one of them! I honestly love getting Sarah's cards for Mother's Day every year.
I love the Korean ones too! The quality and you can see the amount of time she puts in her cards!
About Our Shop
Selah Paper was founded in 2020 with the desire to create heartfelt and thoughtful products that speak to people's hearts. We use modern calligraphy and playful design to create faith-based artwork as well as everyday stationery items.
All our designs are first written or painted by hand and then digitized to print. We hope our products encourage and comfort those who receive them.
Interested in Wholesale?
Are you a retailer interested in carrying our products?
Partner with us!
Get in touch!
Contact hello@selahpaper.com for more information such as bulk orders, partnerships, etc.
Contact Us
Follow along on our journey!
Head over to Instagram to see fun behind-the-scenes and learn more about our small business journey!
Head Over to Instagram