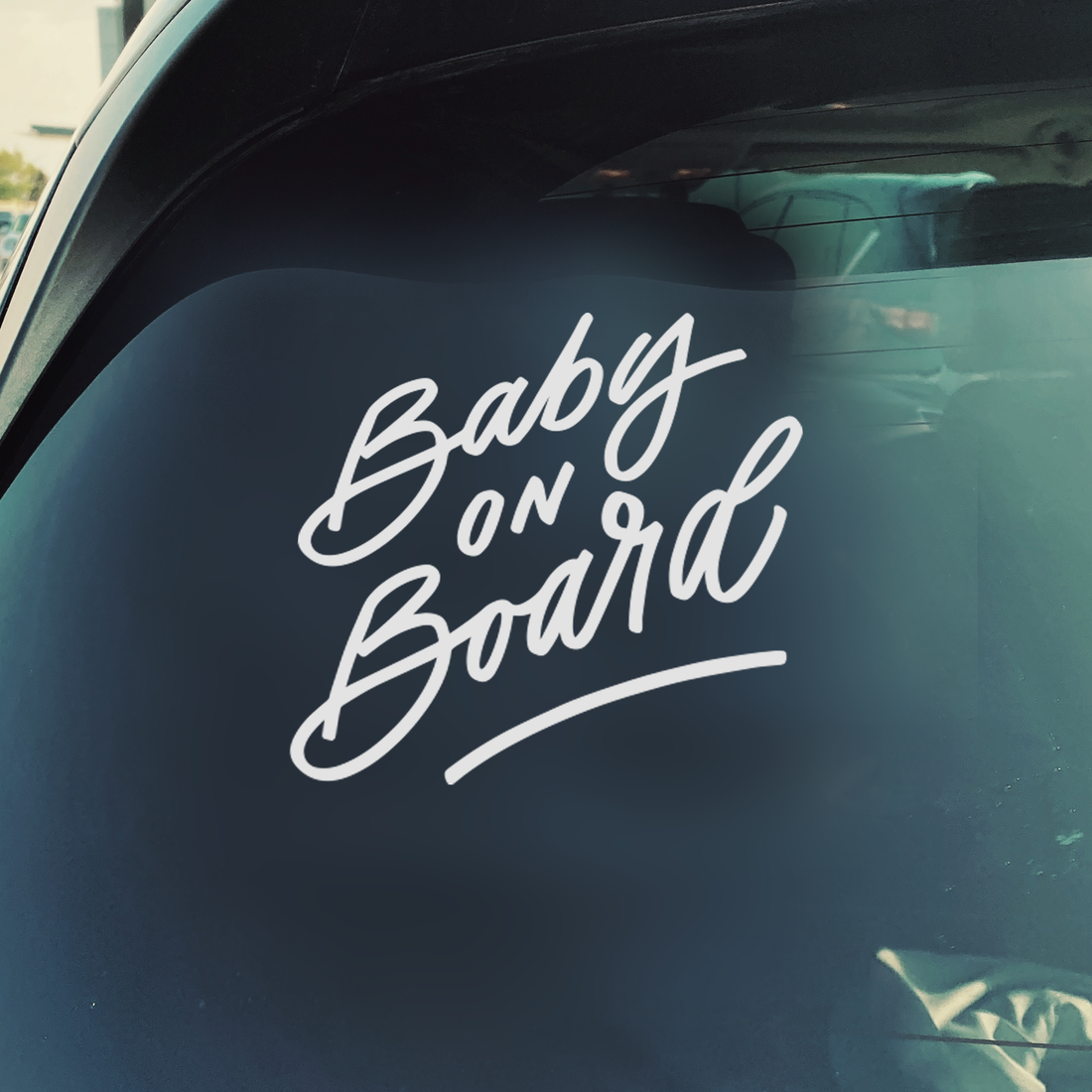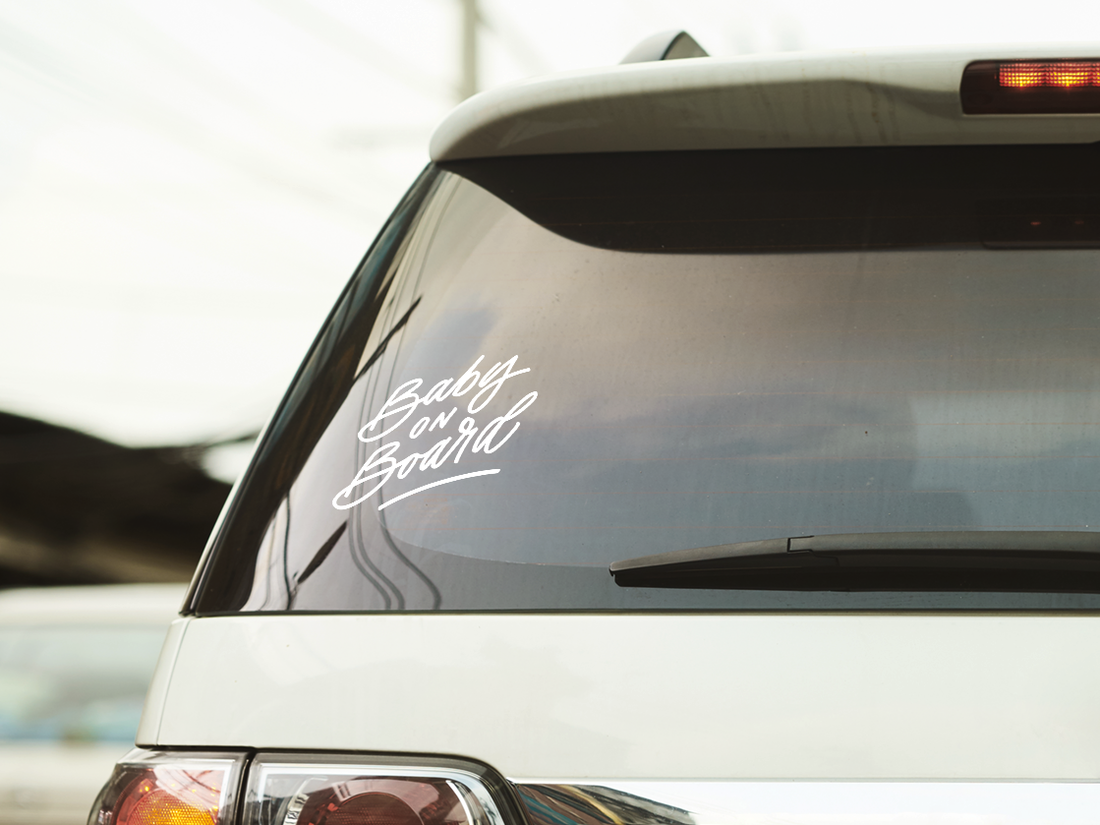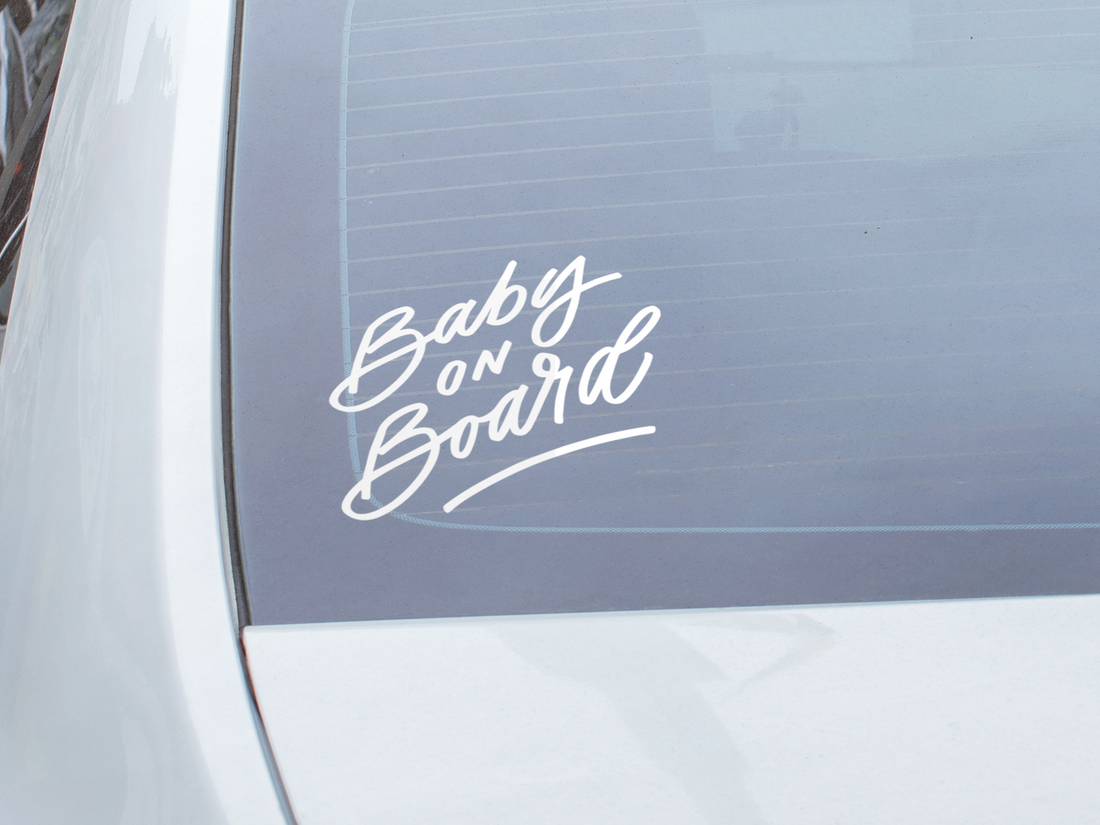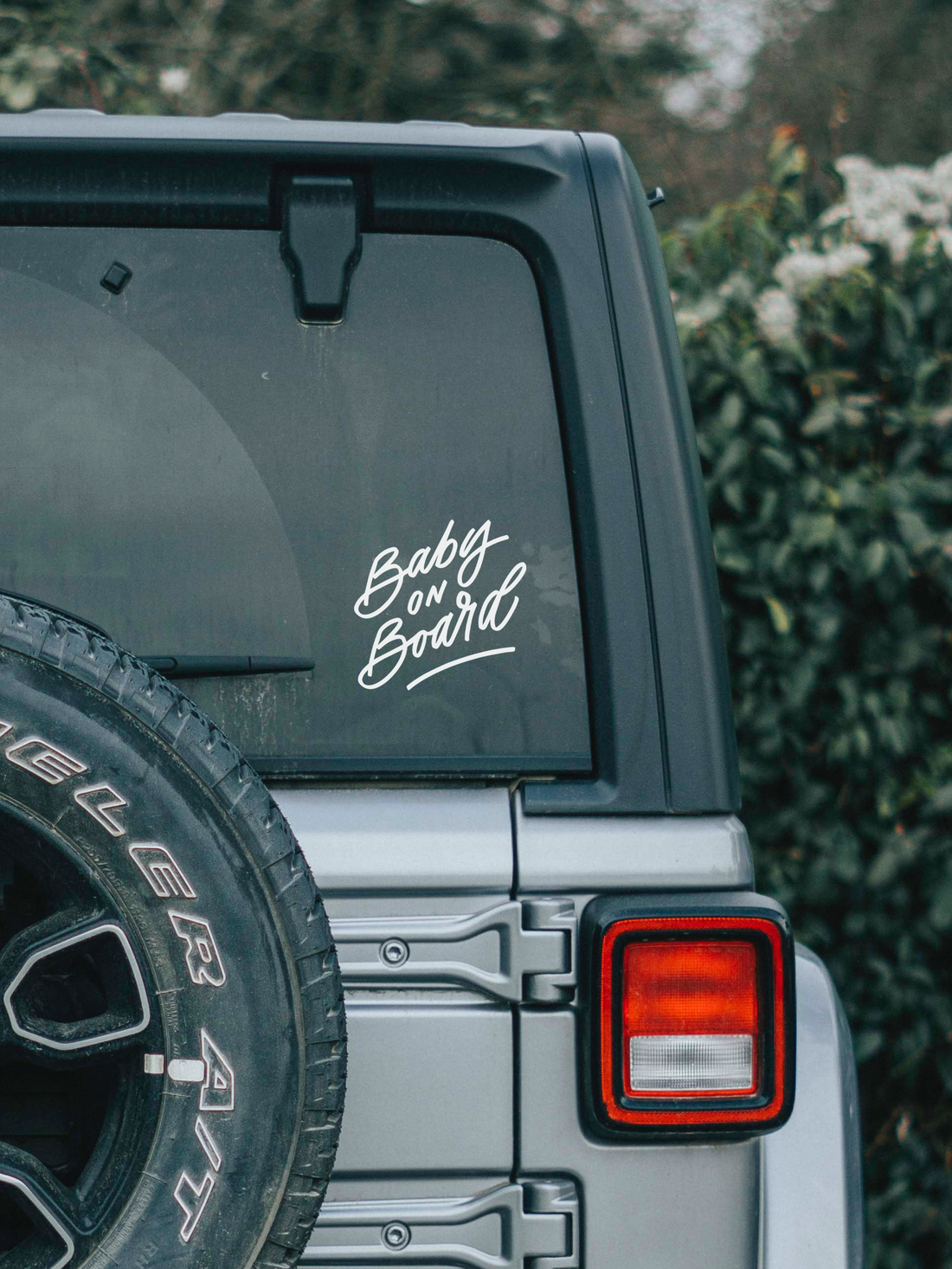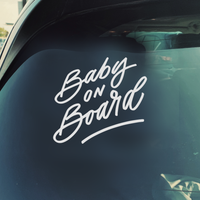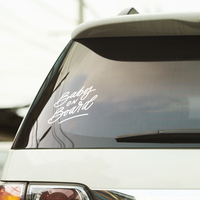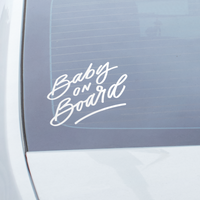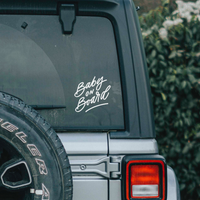 Baby on Board Lettering Car Decal
Baby on board! Our cute and charming car decals are more than just decoration - let the cars around you know that you have precious cargo in your vehicle. This white, vinyl sticker is designed to be durable, legible, and easy to apply.
This car decal is a transfer sticker made of weatherproof vinyl that is ideal for outdoor use. 
Details
Weatherproof vinyl transfer sticker

Good for outdoor use

Measures 5" x 5" inches
Application Instructions
For a video tutorial, watch our Youtube instructional video!
Thoroughly clean and dry your car window.

Slowly peel the clear transfer tape (top layer) from the blue paper backing. Peel carefully to ensure the entire sticker is peeled with the clear transfer tape (all pieces, including any small, standalone pieces, should be adhered to the clear tape).

Position the transfer tape to the desired spot on your car window. Make sure it's not in the way of your windshield wiper!

Press down on the tape and rub, removing air bubbles (you can use a credit card to add pressure).

Slowly pull the transfer tape away. Your car decal should remain adhered on the window!

Please note once the sticker is removed, it cannot be reapplied!
Baby on Board stickers are useful because they let the cars around you know to drive with caution, but it can also let emergency personnel know there is a child on board in the case of an emergency. 
Selah Paper is your shop for all things faith and calligraphy. We sell heartfelt and playful stationery designed to comfort and encourage. All designs are first drawn or painted by hand and then digitized. We aim to make artwork that speaks to your heart and brightens your home.
Beautiful but takes a bit more effort to apply!
This is our second baby car decal from Selah Paper as we loved our first (sunshine design). With the second one, we chose this calligraphy only "Baby on Board" and found that because the words were not all connected, that it took a bit more effort to apply. I had to tear some of the letters off of the backing in order for it to come off and adhere to my window. I was very very careful to check that a part of the letter had adhered to the window, and then pull very slowly. We love it, it's beautiful, but takes more care to apply!
Cute design
It was so hard to find a simple and clean "Baby on Board" decal until I came across this one! It's a good size so it's easily visible.
About Our Shop
Selah Paper was founded in 2020 with the desire to create heartfelt and thoughtful products that speak to people's hearts. We use modern calligraphy and playful design to create faith-based artwork as well as everyday stationery items.
All our designs are first written or painted by hand and then digitized to print. We hope our products encourage and comfort those who receive them.
Interested in Wholesale?
Are you a retailer interested in carrying our products?
Partner with us!
Get in touch!
Contact hello@selahpaper.com for more information such as bulk orders, partnerships, etc.
Contact Us
Follow along on our journey!
Head over to Instagram to see fun behind-the-scenes and learn more about our small business journey!
Head Over to Instagram