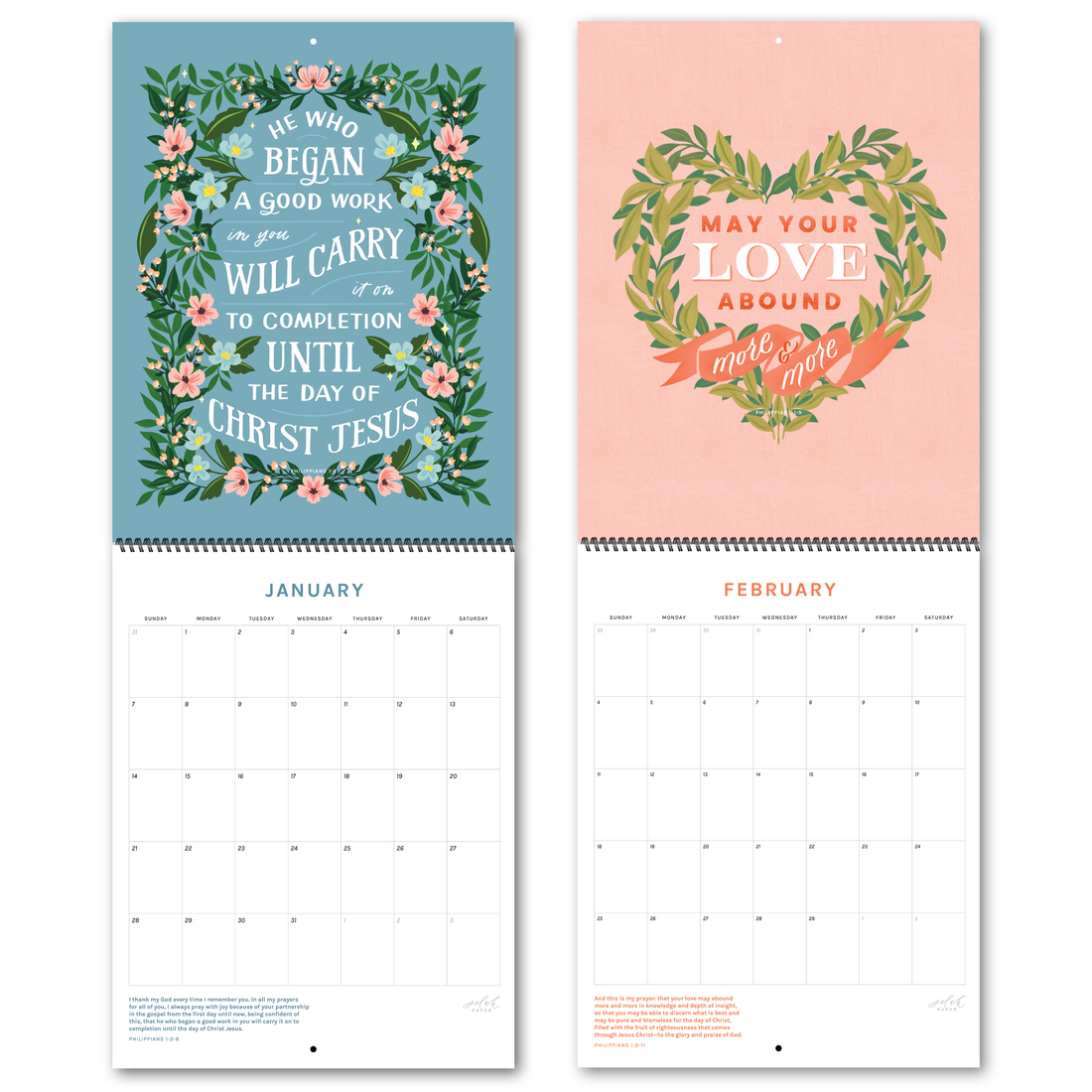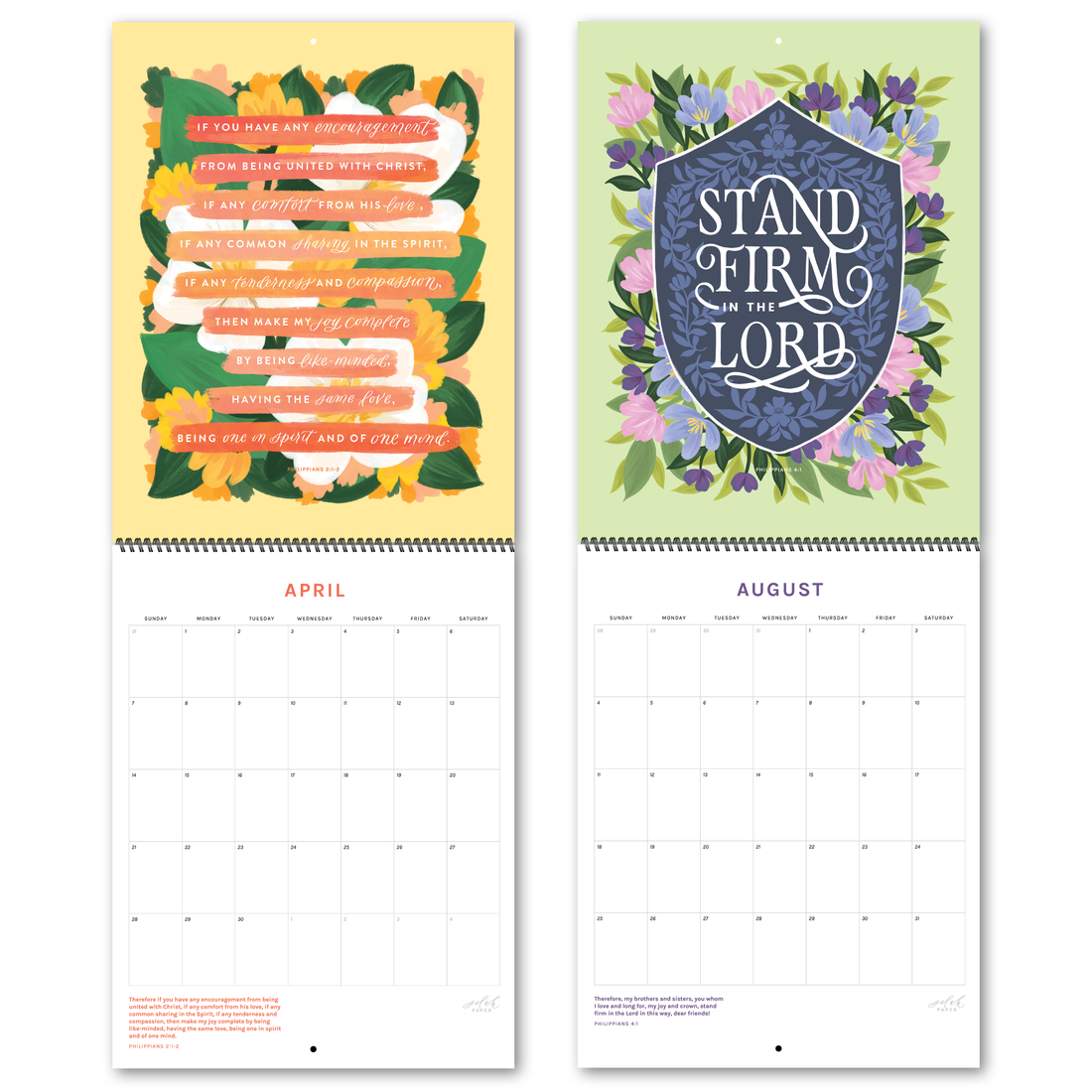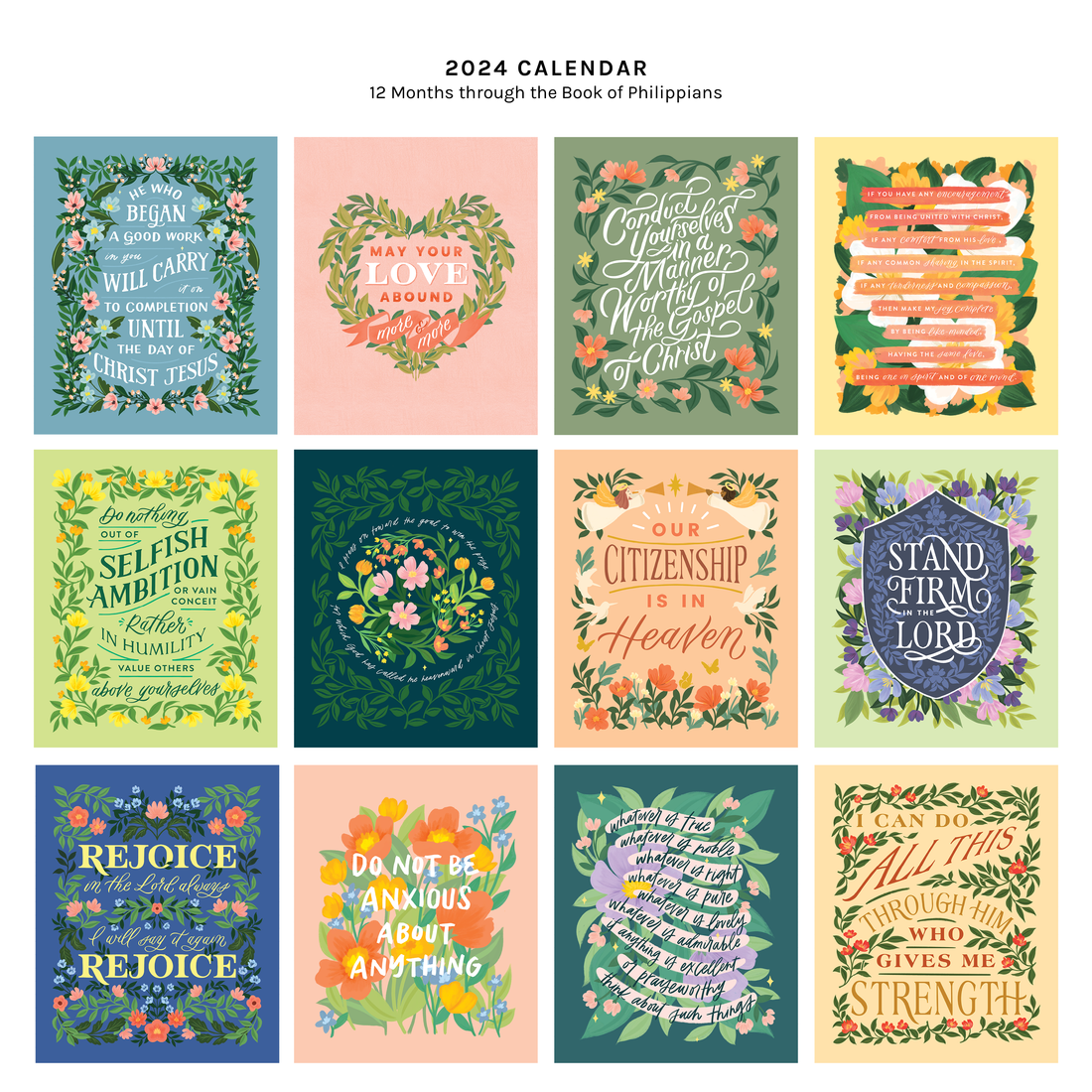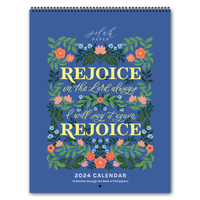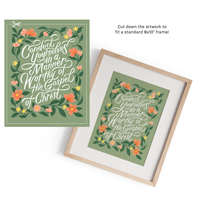 2024 Calendar: Philippians
Did you know Philippians is the most joyful book in the Bible? The Greek words for  "joy" and rejoice" appear 16 times in its four chapters. And yet, it's astounding that this "letter of joy" was written from prison. Paul rejoices even in his trials and  encourages the Philippi church to do the same. 
Our 2024 Calendar walks through the book of Philippians, highlighting 12 verses in chronological order meant to encourage you in your faith. There is so much to learn from this book!
Artwork may be reused and cut down to 8x10". Holidays and key dates are not included. 
Calendar packs of 4 are also available for purchase at 15% off.  
Details
8.5 x 11" when folded, 8.5 x 22" when hung


Spiral bound center with a hole for hanging

Designed and printed in Canada
Selah Paper is your shop for all things faith and calligraphy. We sell heartfelt and playful stationery designed to comfort and encourage. All designs are first drawn or painted by hand and then digitized. We aim to make artwork that speaks to your heart and brightens your home.
Cutest calendar ever
The designs and feel of the calendar are amazing! Thank you Sarah!
Gorgeous
Just stunning. Will order more as Christmas gifts!!
Beautiful design, Beautiful content
I love how all of Selah Paper's content is so deeply steeped in God's Word! The art and design in this gorgeous calendar is a testament to Sarah's love for God's word! Each month is so stunning, I think I need to order another one for myself, as I'm giving the other two away as gifts!
Beautiful and Encouraging
I love the book of Philippians and so I love the beautifully illustrated encouraging reminders in this calendar! The cover is so soft to the touch and the size is ideal. The calendar/bottom portion is minimal, which I appreciate, and includes the relevant scripture. Speaking of the scripture, the calendar traverses through the book through the months, i.e. starts January in Philippians 1 and ends December in chapter 4, which I think is cool :)
About Our Shop
Selah Paper was founded in 2020 with the desire to create heartfelt and thoughtful products that speak to people's hearts. We use modern calligraphy and playful design to create faith-based artwork as well as everyday stationery items.
All our designs are first written or painted by hand and then digitized to print. We hope our products encourage and comfort those who receive them.
Interested in Wholesale?
Are you a retailer interested in carrying our products?
Partner with us!
Get in touch!
Contact hello@selahpaper.com for more information such as bulk orders, partnerships, etc.
Contact Us
Follow along on our journey!
Head over to Instagram to see fun behind-the-scenes and learn more about our small business journey!
Head Over to Instagram